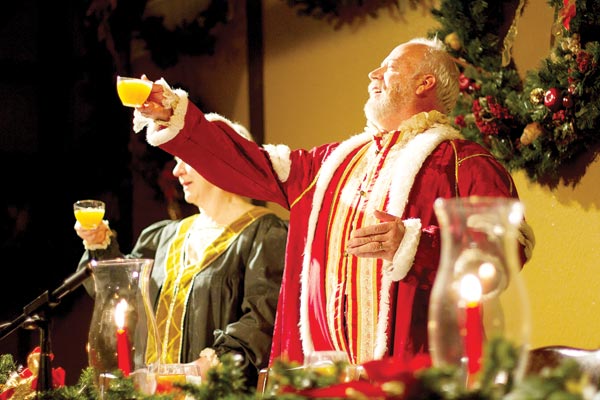 It has become a Foxburg Christmas tradition, each December, Allegheny River-Stone Center for the Arts and the madrigal singers transform Lincoln Hall, Foxburg, into a great hall reminiscent of Medieval England. The king and queen arrive in grand flourish and invite all in attendance to share in a festive dinner. The madrigal choir, dressed in period costume, entertains with madrigal songs and traditional holiday carols. They serve each meal course, while a story unfolds set to music.
Madrigal choral music originated in Italy in the 1520s. In Italy, the madrigal was the most important secular form of music of its time and reached its formal and historical zenith by the second half of the 16th century. After the 1630s, the madrigal began to merge with the cantata and the dialogue. The rise of opera gradually displaced the madrigal. In early 18th century England, singing of madrigals was revived by catch and glee clubs, and later by the Madrigal Society in 1741.
Thus the Madrigal Dinner is an American form of dinner theater. Like the Foxburg Magical Madrigal moment, it is set in the Middle Ages and is generally comedic in nature. The meal is divided into courses, each are heralded with a traditional song. A play is performed between courses and a concert of choral music concludes the festivities. The dinner is intended to imitate a meal that might have been served during the Middle Ages.
Foxburg's Madrigal dinner is Friday December 7th and Saturday December 8th at 7 PM with doors opening at 6:30 PM. Seating is limited so it is suggested to reserve your tickets early. Tickets are $35 per person. Tickets can be purchased by calling Norma Baum at 724-659-5186 or ARCA at 412-867-1816.